I haven't written a blog for such a long time but recently I have been thinking about creativity and how I can help myself feel more creatively fulfilled.
Just over a year ago I left my originals band that I had spent the best part of two years growing from the ground up and investing so much time and money in. The reason I left wasn't because musically I wasn't enjoying it anymore – actually quite the opposite.
I wanted so badly to continue creating music in this project but personally and mentally it wasn't good for me to be in that environment anymore. It was having a huge impact on my mental health and I had to take ownership of that and make the decision that my health was more important than my creativity.
If I'm being completely honest I'm still recovering from this decision.
When I left I think I gave myself about a day to think about it and be sad. After that I totally downplayed the pain I was feeling internally from making this huge decision.
For anyone that has spent a certain amount of time in a band, creating music, with the same people week after week and going on tour in a Vauxhall Astra you know the relationships you create in that environment. The energy you create, completely through sounds and music, is magical and each gig is different and unique in it's own way.
When I began that band I had this idea of what I wanted it to end up looking like and by the time I left the band, I had achieved that. Whenever I allow myself to think that I achieved a dream and then walked away from it, it breaks my heart all over again. I get this real aching to my absolute core that, potentially, may not ever heal completely.
It sounds really dramatic and I don't doubt some people may read this and think "but Abby it was your decision to leave" and yes this is true but anyone who knows me and knows the situation within that band will know the reasoning behind leaving and that it was 100% the right thing to do for me.
After leaving my band I was completely prepared to throw in the towel and never be in a band again. It was like when you break up with someone – you take an oath that that's it now. You won't go near anyone romantically ever again because the pain of the break up was so painful you can't bare the thought of going through it again but then, in time, you heal and someone else comes along and you feel ready to take the risk again.
A few months ago I joined a new band and it's been incredible. To play music with musicians again and perform at the few gigs we have done together has lit the fire in me again to carry on with what I have spent the best part of 13 years studying and create music again.
Although I have this excitement for music again I still have such a deep feeling of loss for what was created in my old band. I feel like I never got a chance to mourn it properly and enjoy our "lasts" together. Our last gig, our last rehearsal and the last time we were all travelling up to a gig together.
Then there is a lingering question attached to that, again similarly to when you split up with someone – "will it ever be as good as before?"
I'm never going to play the songs I used to play again and that time will never be re-created because you can't re-create something as special as that. That's the beauty and tragedy of creativity and bands.
I can make new memories and music I'm excited about with new musicians and I will treasure those, but I guess there is a part of me that feels like I was robbed because I had to leave the band I started and spent so much time on to ultimately achieve the dream I had for it.
But I don't want to come across as bitter because that's not the right word for what I feel.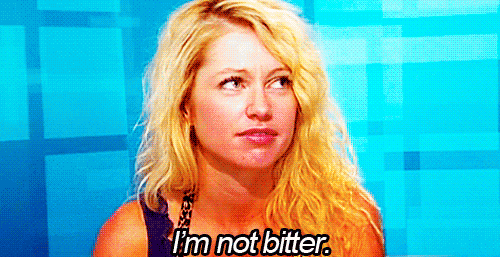 I just feel, as I said before, a deep sadness to my core, for myself really. A real sadness that I couldn't continue creating music in that setting and achieve even more with it.
I guess what I wanted to say with this blog is that creativity, for me personally, is constantly changing and morphing. There is a part of me, the pessimistic part of me, that thinks "it'll never be as good as before" and some days, like today, I am totally over-whelmed by that thought and sadness.
Other days my more optimistic self over-powers that doubt and just reminds me that it won't ever be the same as my old band but there is absolutely no reason it can't be as good, if not better.